In this post we wanted to share what we learned about how to host a live webinar for free using Google+ hangouts.  We have attended live webinars hosted through Google Plus and have heard many people talk about doing it.  But, unfortunately, we could not find many tutorials that could walk us step-by-step through the entire process.   Our learning curve was steep and included trial and error, online research and asking colleagues who have hosted hangouts in the past.  Therefore, we decided to take what we have learned and write this tutorial in hopes this it will help many people save tons of time learning how to use Google+ hangouts in the future!
Our 12 Step Process of Setting Up a Live Webinar with Google+ Hangouts
You can watch the video tutorial below and read our checklist below.  As with any social media platform, Google+ is constantly changing.   But, we wanted to share these tips to get you started on Google+ Hangouts.
February 2014 UPDATE:  See the updated video at the bottom of this post.
Step #1: Decide how you will host the event.
Here are your options:
Create an event through Google +
Set up a blog post where you can have it playing live or wait and publish it afterwards with the embedded video.
Send people directly to the YouTube video link
We recently hosted a live webinar and created an event.  You can see the event page here.
To set up an event click the homepage icon on Google Plus and then click events.
Then, you can choose a "Create Event" or a "Plan a Hangout."  The "Plan a Hangout" is new and from my testing, it did not appear as if you were given an embed code, so I recommend choosing "Create Event" as that is what we have used previously and the process we describe in this tutorial.
Then, fill in your event details.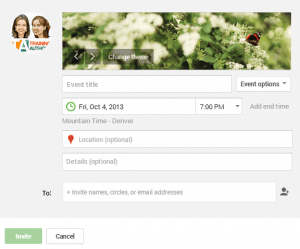 Step #2:  Send your co-presenters the information about the presentation.
Invite any other presenters to the Google+ event you created and let them know that you will invite them to the hangout just before the webinar is to take place.
Here is a tutorial you can send your guests to make sure everything goes smoothly.
Step #3:  When it's time to start the hangout, start a "Hangout on Air," invite your presenters and embed the live video onto the event page and/or the blog post.
On you Google Plus home page, click on the homepage icon in the upper left corner and then choose hangouts from the dropdown menu.
Click on "Start a Hangout On Air"
Make sure to use the Google+ profile or page that is associated with your main YouTube account.  For some reason, our Training Authors YouTube account is connected with our page and not our profile.  So, in order to have the video automatically saved to our YouTube channel, we needed to set up the Hangout On Air through our page.
To embed the video on your event page, first get the YouTube link by clicking the "embed" link at the top of your Hangout On Air and copying the URL.

Then, on your event page, click the dropdown menu next to "Details" and choose edit event.
Then, under the dropdown menu "Event Options" choose to show more options.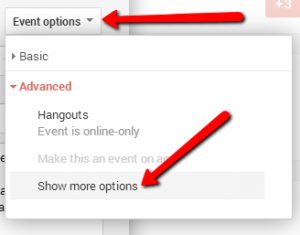 There will then be a place for a YouTube URL and that is where you will enter your Hangout On Air URL.
Step #4:  Turn on lower third app and make sure text and branding is correct.
*Found in the free toolbox app – you will need to add it if you haven't already.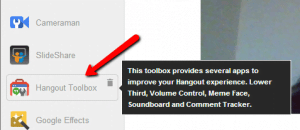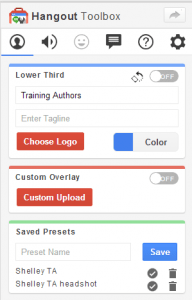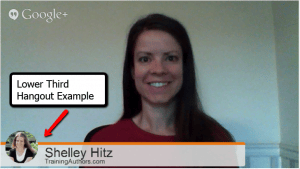 Step #5:  Prepare your PowerPoint slides
You have two options.  You can upload slides to the Slideshare account that is connected to that Google account and use the Slideshare app.  We tried this option but found it was easiest to simply use PowerPoint on our computer and then use the screenshare app.
To use the screenshare app, click on it and then choose the screen you want to display to your attendees.
Step#6:  Test your video and audio settings.
Click the small "gear" icon in the right hand corner to test your video and audio settings prior to starting your broadcast.
Step #7:  Decide how participants can ask questions.
Google+ hangouts currently have a live Q&A feature that you can use.  However, this did not seem to be accessible through the blog post embedded video and it must be turned on BEFORE you broadcast your webinar. You can also take questions through your Google+ event page and/or blog post comments.  One thing we did notice is that the Google+ event comments are currently not nested.  And so to reply to someone, we tagged them in a new comment.
Step #8:  Start broadcasting the hangout at the correct time.
This is pretty simple, just click the broadcast button.
Step #9:  Manage what the attendees see on their screen.
You can turn off your video if you want your attendees to see only the slides.  You can also turn off your co-presenter's video by clicking on the "Cameraman" app and then clicking their video icon.
Step #10:  Watch the right side of the screen for questions during your webinar if using the Q&A feature.
You will want to moderate and answer any questions that come in during your webinar if you have chosen to use the Q&A feature.
Step #11:  End the webinar and complete any editing of the video replay.
To edit your video, you can either use the YouTube editor or download it to your computer to edit it with your own video editing software (to download a video from YouTube, place "ss" in front of "youtube" in the URL and then you'll get a download option). It does take a few minutes for the complete hangout video to be processed and available for editing or download in your YouTube account, so be patient.
Once your edits are complete,  save or re-load the edited video. Either way this will change the videos URL so you'll need to update it on your blog and within your event page.
*To update the URL your event page, click the dropdown menu next to "Details" and choose edit event. Then, under the dropdown menu "Event Options" choose to show more options. There will then be a place for a YouTube URL and that is where you will enter your new video  URL
Step #12:  Share the replay link with those who couldn't make it live.
If you want, you can choose to have the YouTube video unlisted and only available to your paid customers, etc.  You can see how we embedded the video in our blog post here.
February 2014 Update
Watch the first 17 minutes of the video below for changes made to hangouts since publishing this post.

Hangout Guides from Google:
Google Helpouts Coming Soon
There will also soon be another way to connect with your audience live called Google Helpouts.  Request an invite here:  https://helpouts.google.com
Host a Private or Unlisted Hangout On Air from YouTube
Now you can start a private or unlisted hangout on air from YouTube.  This video below shows you how to do this (forward ahead to the 8 minute mark)
Looking for a Google+ Hangout Webinar Service Option?
If this seems too complicated for you and you would like more features with your Google+ Hangouts, then consider one of the options below.
LeadPages
I have personally been using this system for webinars and paid online workshops for months now and LOVE it!  It's super easy and the only thing you need to pay for is LeadPages.  I show you step-by-step in this video tutorial how to set up a webinar with Google+ Hangouts and LeadPages.
Share Your Google Plus Hangout Tips!
We are still learning how Google+ hangouts work and would love to hear your tips.  Have you used a hangout?  How did it go?  Any advice that you have for us and others that want to use Google+ hangouts for live webinars?  Share in the comments below.
Note:  We are especially grateful for Denise Wakeman from Adventures in Visibility who answered several of our Google+ questions as we were in the learning process.  Thank you Denise!  She has a full training program about Google+ and Hangouts that I highly recommend.
Did you find this tutorial helpful?  If so, pay it forward by sharing with others below: