Second edition published in 2020.
Are you looking for ways to get more honest reviews for your books?
Offering credibility and proof of readership, reviews have the power to boost your book sales. In part two of this book, we share 7 proven ways authors can legitimately increase the number of reviews written about their books. These are strategies we have used successfully to connect with readers and reviewers and now want to share them with you.
7 Proven Ways to Get Reviews
Ask Your Sphere of Influence
Contact Amazon Reviewers
Harness the Power of Social Media Groups
Submit to Readers' Favorite
Contact Blog Reviewers
Conduct Giveaways to Get Reviews
Develop a Book Review Program
Join us in this book as we take you step-by-step through the process of how to get honest reviews.
Claim your bonus below.
Step #1:  Buy The Book (Kindle or Print)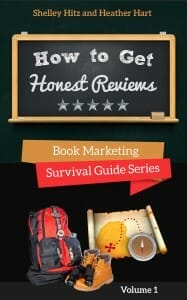 Get Your Copy Here:
Step #2:  Claim Your Bonus
Get the Honest Reviews Tool Kit ($39 Value)
You will also get to download our FREE Honest Reviews Tool Kit ($39 value) that will help you apply what you've learned inside our book, "How to Get Honest Reviews."
Download it now here: https://www.trainingauthors.com/honestreviews

6 Templates
Back of Book Review Request Blurb
Email Templates for Contacting Reviewers
Email Templates for Review Reminders
Email Templates for Soliciting Reviews
FTC Disclosure Templates
Social Media Review Request Templates
4 Checklists
Amazon Review Guidelines
Contacting Amazon Top Reviewers
How to Get More Honest Reviews
Setting Up A Review Program
2 Spreadsheets
Book Review Tracking Sheet
Places to Solicit Reviews Online
2 Bonuses
Readers' Favorite Article
How to Write a Book Review
2 Resource Lists
Places to Post Reviews
Resources for Soliciting Reviews
This is a $39 value that you get for free as a result of purchasing our book, How to Get Honest Reviews.
Buy the book and then get access to the tool kit here.
Praise for "How to Get Honest Reviews"
"In this informative, easy-to-read book, Shelley Hitz and Heather Hart not only share a wealth of ideas as to how to get honest reviews, they also share why having book reviews is so important and how reviews can have a positive (or negative) effect on your book sales. Readers will LOVE the comprehensive list of places they can go online to get honest reviews for their books. I was excited to discover many online communities of authors who are dedicated to helping other authors. This book is based on practical advice from two educators who are dedicated to supporting authors on their success journey." 
– D'vorah Lansky, M.Ed. and bestselling author of Book Marketing Made Easy
BookMarketingMadeEasy.com
"Shelley and Heather have done it again. This easy-to-follow guide gives you the resources you need to get your book dozens of reviews. I fully recommend 'How to Get Honest Reviews' for any author looking to separate from the pack." 
– Bryan Cohen, Author of 1,000 Creative Writing Prompts
BuildCreativeWritingIdeas.com
"This might sound like hyperbole, but after reading 'How to Get Honest Reviews,' I couldn't help but thinking it should be called 'The Ultimate Guide to Getting Honest Reviews.' The section on how to develop your own book review program was outstanding. I really liked the step by step approach the authors shared about how they started their own successful book review program, including samples of emails you can model, what resources to use and exactly how to set up your program. They didn't leave anything out. As they say, book reviews are like gold for authors and I believe any new or experienced author will benefit by studying Hart's and Hitz's system."
– Denise Wakeman, Online Business Strategist
DeniseWakeman.com
"How To Get Honest Reviews – 7 Proven Ways to Connect With Readers and Reviewers by Shelley Hitz and Heather Hart guides the reader (who most likely also is a writer) through various chapters on how to find HONEST reviewers from various sources. They, fortunately, do not cover any of the rather dubious sources of reviews. They introduce different sites that are important to have reviews on and why; they introduce different methods to get reviews, and even show the reader how to create their own loyal base of reviewers (this was a new idea to me). I have not finished any of my own books yet, but how to get reviews has often been something I wondered about. Thanks to this book, I am now prepared for this step of the journey as a writer."