Do you realize how many options are available to authors when it comes to book marketing?
Have you thought about submitting a short story or report to an article directory, co-authoring a book series, or posting an excerpt from your book on Facebook?
As authors, we are only limited by the scope of our imagination and in this eBook, internationally best-selling author, Heather Hart, will share 101 tips for marketing your book that you may not have ever considered before, including:
10 Basic Book Marketing Tips
18 Ways to Network your Success
15 Blogging Prompts and Tips
14 Advertising Tips
13 Social Media Marketing Tips
8 E-mail Marketing Tips
23 More Tips For Marketing Your Book
Heather encourages authors to take action – are you up for the challenge?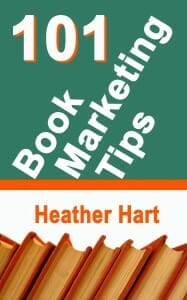 Get Your Copy Here:
Kindle | iBooks | Nook | PDF