Lights, camera, action. Did you know you can record videos to market your business and books on a simple iPhone? In this post, I'm going to share with you five video marketing tips you can get started using right away.
All you need is a simple smartphone to get started taking videos that can promote your business, your products, your books and give exposure to you and your site. However, there are a few tips that I want to share with you to help you avoid the common mistakes first-time videographers make.

1) Video Marketing Tips: Film in the Horizontal Position
The first tip is to make sure your smartphone is in the horizontal position. I see a lot of people making the mistake of taking their videos with the phone in the vertical position. If you take the video on the vertical position, what will happen is there will be a ton of black space on either side. You definitely want to make sure it's on the horizontal position.
2) Video Marketing Tips: Look into the Lens
The second tip you is to look directly into the camera when you are recording. Otherwise, it is going to be distracting and will look like you're looking away. You want to make sure that you're looking directly into the camera, so you're making that eye contact with the person watching.
3) Video Marketing Tips: Use a Tripod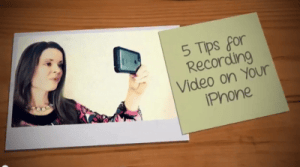 The third tip that I have for you is to use a tripod or set your phone against something. Right now, I'm using the tripod. I try to do that when possible. Sometimes, I will just hold my phone if I have nothing else or you can set it against something.
One time, I was in my dining room and I set the phone against a box on the table and then kneeled down to where just my head and shoulders were visible to record several videos.
You don't have to have necessarily a tripod but that is something I do recommend investing in.
4) Video Marketing Tips: Double Tap on the Image of Your Face
Another thing I recommend specifically for the iPhone is there is a function that you can use where it makes the image crisper and clearer. Let me show you what I mean. What you can do is double tap on your face and it brings up a little icon. This makes the picture clearer for you. Just double tap on your face or have somebody there that's helping you to film to double tap on it. A lot of times, I film by myself and so I have my camera in selfie mode and I double tap it really quick before I start the recording.
5) Video Marketing Tips: Clean Off Your Lens
Another quick little tip is to make sure you clean off your lenses. Simply use a cotton cloth or piece of clothing and clean off the lens. This will help you to get a crisper, clearer picture.
Bonus Tip:
I had an author email me recently and ask me about the space on the phone when recording videos. I have my iPhone connected to Dropbox. If you don't have a Dropbox account, go to Shelleyhitz.com/dropbox and you can get two gigabytes free.
I then have my photos and videos automatically uploaded to Dropbox so I can delete them from my phone. That way, you don't clog up your phone with the space from your videos.
Conclusion:
There you have it, five tips and a bonus tip on how to get started with video marketing on your iPhone.
Download my video script template for FREE
Leave me a comment below and let me know if you take videos on your iPhone or if you have been inspired to get started.