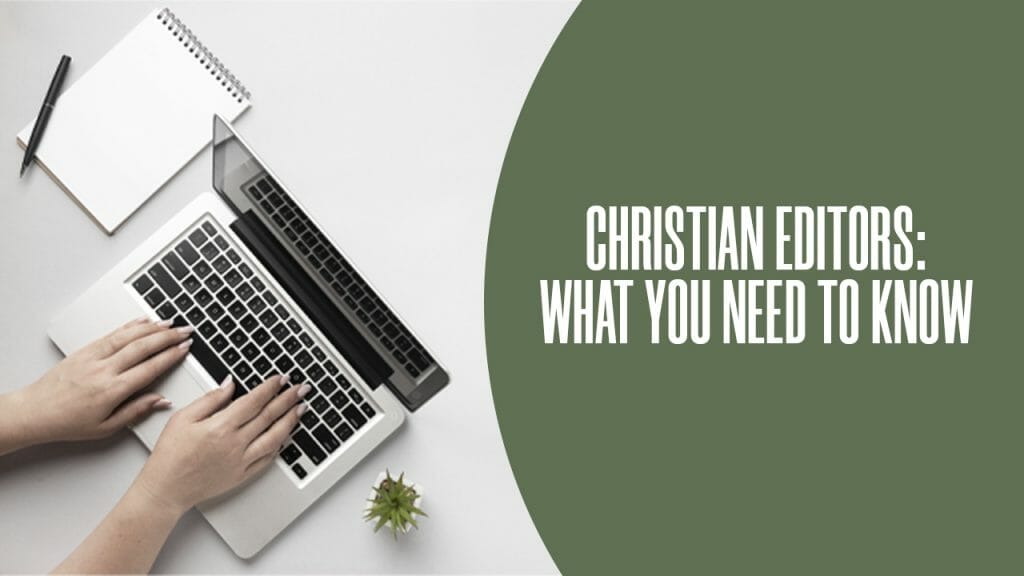 As a writer, what are the things that you need to know about Christian editors? We will discuss the top three things we recommend when looking for an editor for your book.
If we will drill down to the heart of it, being a Christian book editor is a challenging role. Yet editors play a very crucial role in the success of authors and their books. The quality of a book directly impacts its sales. 
Book writing and editing go hand-in-hand. Christian editors give you the corrections and suggestions you need to help you publish an even better book that you're proud to share with the world.
If you want to learn more about what you need to know about book editing, then read on.
Christian Editors: What You Need to Know
#1: Do Your Research
As an author, research is your indispensable companion. It's important to do your research and get recommendations from people you trust so that you can get an idea of what to expect when it comes time for you to work with a Christian editor.
First, you can have them edit a sample of your work so they can give you feedback on content that's positive and constructive. This also allows you to see their work and their communication style.
Most editors will offer a free edit for up to 5 pages. Then you can decide on where to go from there.
#2: Get a Quote from Several Christian Editors
The next thing you should research is pricing because it's the way your editor will be compensated for their work and time.
You can do this by asking them for a quote. Some Christian editors charge by word, some by project. You'll want to find a book editor that can help you deliver quality content for your project at a fair price. 
There are many ways a Christian editor can help you with the editing of your book. Some will just proofread your work, others may offer help with chapters. That's why it's important to know the different types of editing.
There are several types of editing:
Proofreading

Critiquing

Content Editing (aka Developmental or Substantive Editing)

Copyediting (aka Line-by-Line Editing)

Developmental Editing (aka Book Doctoring or Coaching)
It can be confusing to know the difference. Therefore, I recommend reading the definitions from the ChristianEditor.com website here: https://christianeditor.com/authors/types-of-editing
Based on the list above, copy editing will be the most cost effective while developmental editing is the most expensive.
#3: Good Communication is Key
Good communication is essential when working with any of your outsourcers but especially your
editor. Most Christian editors have a busy client load so you will need to make sure to ask when they are available. It may also be helpful to contact them early so they can be available when you need them.
Hiring an editor requires good communication. You'll need to know the format your editor requires. Most book editors will want your manuscript in Word to track changes but you may find editors willing to edit in other software. You simply need to ask. This ensures you're on the same page and allows you to work smoothly together.
Another thing you need to discuss is your deadlines. Communicate clearly your deadlines with your book editor and make sure they have the availability to get it done when you need it. You will still be responsible for approving the changes and making sure the final product is high quality.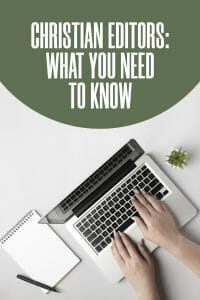 Christian Editor Recommendations
One way to get more done as an author is to outsource tasks that are not your strengths or that take up your valuable time. When it comes to editing, we recommend that every writer hire one. Even editors need their work edited. 
You can self-edit your work but we always recommend hiring at least someone to copy edit your work to ensure a high quality finished product. Many times we are too close to our manuscript to see everything.
We have gathered a list of recommended Christian editors for you below in different categories. However, we still recommend that you ask for references and research the quality of their work.
Make sure to also download these recommendations as a PDF here so you can easily save them for when you need them.
Recommended Reading: