By Nina Amir
It's a rare aspiring or published author who doesn't occasionally—or more than occasionally—lament the need to spend time on promotion. After all, writers want to write. They don't want to sell.
I totally understand. Over the past few years, I've spent an inordinate amount of my work time either pre-promoting my books (building author platform) or promoting books after release.
I'd also rather be writing.
However, I don't write for the love of it. Yes, I love writing. Writing fulfills my calling, or purpose, in life. But I write to help my readers. That's my mission.
If no one ever reads what I write, I can't have a positive and meaningful difference with my words. So, promotion must be part of what I, as a writer, do.
The Solution
Knowing that doesn't solve the problem: Writers still typically don't want to promote themselves or their works. So they approach promotional activities as a "should," doing them under duress because they "must" if they want their books to succeed.
Not only that, they resent the fact that the time spent on promotional activities takes them away from writing. I can't tell you how many times my clients and attendees at conferences where I speak have told me they feel angry and frustrated because they didn't set out to be promoters—just writers. And they can't find time to write because they are busy blogging and posting to social networks to create a built-in readership for their books. Therefore, they fear the books never will get written.
But a solution does exist. You can combine your writing and promotional activities. Kill two birds with one stone, so to speak. Write your book as you blog. In other words, blog a book.
Write Your Book Post by Post
When you blog a book, you publish the first draft of your book on your blog post by post. Normally, you publish blog posts on a variety of topics that are not linked together in any way. With this dual-purpose strategy, however, you publish short installments—300-700-word pieces—of your book. Each installment (blog post) comprises part of a chapter.
Promote as You Write 
Your blog serves as the foundation for your promotional efforts. Each time you publish a post, share this valuable content on your social networks. Yes, you can curate other experts content, but it's best to share your own—and, in the process, to drive readers to your site.
The continuous flow of related content keeps readers coming back for more. Basically, you just write a long series on one topic. Blog visitors want to keep "turning the pages."
That means your blog enjoys more return visitors and more page views. You'll also gain new readers because you blog in a focused manner. This practice drives up your site in the search engine results pages, making it more discoverable. When someone searches for information on the topic of your book, they are more likely to find your blog—and your book.
The only thing you need to do to make that happen is write your book and publish it post by post.
Then take 10 minutes in the morning, afternoon and evening to share your newest post on your social networks. Do this with the sharing tools you've provided for your readers or by copying and pasting the blog post URL (link) into Facebook, Twitter, LinkedIn, and Google + with a short update. (Don't forget to pin the image use to Pinterest!)
Or automate the sharing with a service like CoSchedule or SocialOomph. These cost a little bit of money, but they can open up some more time to write.
Write More Books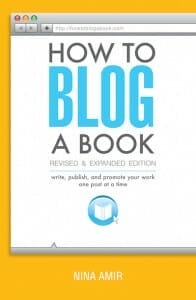 Once you know how to blog a book, you can write more books—short ones and long ones. Use your blog as a book-writing machine. Plan out another full-length book and start writing it when you finish the first one. Or blog a few short books in between your long books.
The more books you write, the more books you sell. And short books help sell the long related books. In the process, your book promotion and platform building gets done as well.
So stop complaining about promotion. Turn your blog into a book-writing machine while you build your author platform and promote your book(s).
To learn more about blogging book and booking blogs, purchase a copy of How to Blog a Book Revised and Expanded Edition in the Writer's Digest Shop.
About the Author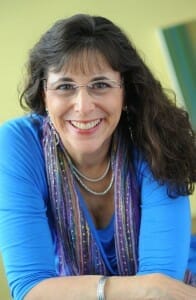 Nina Amir, the Inspiration to Creation Coach, is the bestselling author of How to Blog a Book and The Author Training Manual. A speaker, blogger, and author, book, blog-to-book, and high-performance coach, she helps people combine their passion and purpose so they move from idea to inspired action and positively and meaningfully impact the world as writers, bloggers, authorpreneurs, and blogpreneurs. Some of Nina's clients have sold 300,000+ copies of their books, landed deals with major publishing houses and created thriving businesses around their books. She is the founder of National Nonfiction Writing Month, National Book Blogging Month, and the Nonfiction Writers' University. As a hybrid author, she has published 15 books and had as many as four books on an Amazon Top 100 list at the same time.
To find out more about Nina and get a free goal-achievement e-book, visit www.ninaamir.com. Receive a set of free blog-plan templates when you visit www.howtoblogabook.com or a free guide to writing a nonfiction book at www.writenonfictionnow.com.
Follow Nina on:
Twitter: https://twitter.com/NinaAmir
Facebook: www.facebook.com/InspirationToCreation
LinkedIn: https://www.linkedin.com/in/ninaamir
Pinterest: www.pinterest.com/ninaamir