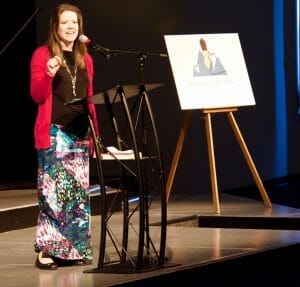 Shelley Hitz has coached thousands of authors through her books, training programs, online events, seminars, and more.   She has over 15 years of experience speaking to groups of all sizes, from small workshops to keynote presentations in front of thousands. She is also the host of the Kingdom Writers podcast.
However, she is best known for injecting energy and enthusiasm into everything she does and inspiring those around her to take action.
Her clients are successfully publishing new books simply by following her proven system.
Ultimately, Shelley is on a mission to help your audience reach more people with their message.
If you want your audience to be inspired to take action while they learn, let's talk! 
Shelley's workshop-style events are well-received because the participants take action and get results during the session.
Upcoming Appearances:
See Shelley's upcoming appearances and where she's been booked in the past here: www.trainingauthors.com/media-room
Presentation topics include:
Podcast / Summit Interview Options:
How to Choose Which Book to Write First (especially when you have so many ideas!)
3 Reasons to Start Small and Publish a Short Kindle eBook First (OR Start Small: 5 Ways Publishing a Short Kindle eBook Will Save You Money OR OR 3 Ways a Short Kindle eBook Can Have a Big Impact)
7 ways to build buzz about your book without hard selling
One Reason Christian Authors Resist Marketing (and what to do instead)
Webinars:
Friction to Flow: 7 Ways to Get Unstuck So You Can Finish Your First Draft
15-Minute Writer: Experience the Power of a Short, Focused Writing Session (this includes a 15-minute group writing session)
Write Now: Overcoming the Obstacles in Your Writing Life
Write More, Write Better:  5 Key Writing Strategies to Help You Become a Productive Writer
Writing in Community: The Power of Many (covers the importance of a prayer team, beta readers and book reviewers)
Prolific Publisher:  7 strategies I used to publish over 50 books in 7 years
Amplify Your Message:  How to Grow Your Audience While You Write Your Book
The Power of Getting Crystal Clear on WHO Your Ideal Reader Is and Tips on Finding Your Audience Online (includes a step-by-step worksheet to identifying your target audience)
Workshops:
The following is a list of workshops that I sell on my website. Therefore, anytime I share this content it needs to be for a paid conference, event, etc. and not shared for free to honor my customers.
Book Writing Lab: Get your book out of your head and onto paper by the end of this 90-minute workshop using our 3 simple book writing formulas. (see more here)
Procrastination to Publication: With Our Simple 5-Step System, You'll Be Able to Self-Publish a Quality Kindle eBook (without breaking the bank) In as Little as 30 Days. (see more here)
Mini-Marketing Messages: Get your social media content for the next month done in just 90 minutes so that you can reach more readers with your book (without being pushy or salesy). (see more here)
Book Promotion Plan: Create a 30-Day Marketing Calendar to Help You Connect with
New Readers So That God Can Use Your Book to Impact Lives
And much more!
If you have a specific topic you are interested in regarding publishing, book marketing or online marketing, contact Shelley for more information.
Media Kit
Click Here to Access Shelley's Media Kit
Bio and Headshot
Download Shelley's bio here:
Short and long bio (GDOC)
Download Shelley's headshot images here:
What Event Coordinators Are Saying
"I was so excited to have Shelley Hitz come and speak to my audience at "Write. Publish. Prosper." During her session, I even got an idea for a brand new book that I'd never thought of before and I've been a published author for 5 years.
If you have the opportunity to work with Shelley, I would say do whatever you can to get to where she is, listen to her and put everything into action. You're going to love what Shelley teaches you about becoming an author."
– Connie Ragen Green, www.ConnieGreen.com
"Shelley Hitz did a presentation for our organization. It was a tremendous presentation and the workshop that followed brought a lot of value to our members."
– Becky Parker Geist, BAIPA.org President and owner of Pro Audio Voices
Shelley was a wonderful addition to our first Daily Faith Creators Summit. She responded to our requests for information quickly and made the pre-event process smooth. She brought great energy and delivered actionable advice and encouragement for our audience of faith-based content creators. We enjoyed the experience and recommend her for any speaking opportunities. – Kelly McCausey, DailyFaithPublishers.com
Shelley Hitz led a workshop at our recent Writers on the Rock conference. She's a fantastic speaker, a passionate leader, and a motivational personality. Our first mistake was not giving her enough room, as every seat was taken. Our second mistake was not giving her the microphone for the entire conference.  Some trainers unwittingly highlight inadequacies and as a writer, you feel defeated. Not Shelley. This dynamo encourages possibilities and actually gives you the tools to create new opportunities. Every person that went to her workshop was motivated, inspired, and excited.
` David Rupert, Director, Writers on the Rock
Shelley Hitz always brings the very best tips and strategies for authors. That's why she's consistently rated as a must-have speaker in the self-publishing event circle. Our attendees were wow'd by her presentation and we'd be lucky to have her speak again for us.
– Jim F.  Kukral, Founder of the Author Marketing Institute
www.AuthorMarketingInstitute.com
Shelley Hitz is an exceptionally gifted educator and extremely knowledgeable trainer of authors. She has been a speaker at our Annual Book Marketing Conference Online several times and our students rave about her workshops.
Shelley is a positive force in today's book marketing world and I give her my full endorsement.
– D'vorah Lansky, M.Ed. and Bestselling Author, www.BookMarketingMadeEasy.com
"Shelley was a presenter for the 2016 Nonfiction Writers Conference.
She had the afternoon session, following the lunch break, which is not an easy one to cover since people are tired. However, she brought enthusiastic energy and was clearly well prepared for her topic. Great job!"
– Stephanie Chandler, Founder & CEO at Nonfiction Authors Association

Video Clips
Speaker Promo Video

Watch Shelley's opening few minutes of her talk.
Watch Shelley's illustration about marketing.
Let Your Light SHINE (for a Christian audience)

How to Make an Impact in Someone's Life


See Shelley's media appearances here.
Contact Shelley if you are interested in booking her for an event.
What Authors Are Saying
Feedback from Shelley's "Procrastination to Publication" Workshop:
"It was a wonderful, wonderful talk. Now I can move forward and I know what to do with writing my second book.  If you have the opportunity to listen to Shelley at an event, I recommend it highly." – Debbie O'Grady, The Accountability Squad
"She is enthusiastic for her students and for what she can help them accomplish. I took copious notes from Shelley's presentation because now I feel I have the tools to accomplishing my goal of writing a book."  – Tom Armstrong
Feedback from Shelley's "Building a Book Marketing Plan" Workshop:
"So powerful to see in person… Shelley Hitz, Building a Book Marketing Plan was something that inspired me and entertained me."
"I took more notes at this particular meeting with her presentation than I have ever before at any meeting here." – Woody Weingarten
"She gives us steps that are broken down that we can use right away. I cannot tell you how lucky I am to have met Shelley Hitz today." – Jenifer Behling
"I recently heard Shelley speak at my publishing meeting (Bay Area Independent Publishers Association). In addition to her lively and enthusiastic presentation skills,  Shelley really knows her stuff! Her 30-day marketing plan idea really helped me organize myself and finally get something accomplished!"
Shelley's Published Books for Authors
Books available in print:
See a list of all her books here.
Booking Shelley
Are you interested in booking Shelley to speak at your event? Simply fill out the form below and she will get back with you soon. If your event is a good fit for Shelley, she will schedule a time to talk with you on the phone.  Or you can call her at 719-445-6558.