E-mail marketing has been one of our most successful book marketing strategies and for years we have used Aweber to build our lists.  However, we now use TrafficWave exclusively.  We took the plunge and made this huge change.  Why?  Well, in this post we are going to share with you why we made the switch, the main differences between Aweber vs TrafficWave and how to get started with e-mail marketing.
Having an e-mail list is one of the strongest marketing tools that you can have. We use them to connect with our readers, customers, and other authors. This is a way to build trust with them and also let them know about special promotions and offers. Because of that trust, we have seen direct results during promotions in sales spikes after e-mails were sent.
However, choosing the e-mail list provider that is best for you can be a bit tricky. There are dozens of companies that provide e-mail list management – and they all have their ups and downs. One of the most recommended/well-known companies is Aweber – and we use to use them to manage our e-mail lists for over 2.5 years… but not anymore.
UPDATE:  Shelley is now using Getresponse for her list on ShelleyHitz.com to have more features and automation.
Why We Switched from Aweber to TrafficWave
As we began to have success with e-mail marketing, our subscriber lists grew.  To be honest, we had thousands of subscribers on multiple lists.  Some of our lists were for business, but a majority of them were for ministry where we offer free resources, encouragement, etc.
Aweber charges a monthly fee and that fee increases as your subscribers increase.  
We soon realized that our costs were going to skyrocket because our lists were rapidly growing.  Now don't get me wrong, that is actually a really good problem to have!  However, we knew that our budget couldn't afford to grow with our lists.    For us, our business was just starting to grow.  And honestly, our main focus was (and continues to be) ministry and helping others – not just on making money.  So, if we could accomplish our goals with e-mail marketing without the increasing fees, we were interested.
Our Main Reason to Switch:  The Cost
Obviously, the growing monthly cost for Aweber was the main reason we started looking for other options.   We knew that we needed the ability to send broadcast e-mails as well as autoresponder messages to multiple lists in multiple niches.
That is why in May of 2012, we started to switch our e-mail lists over to TrafficWave.  Immediately, we were able to save about $100 per month because with TrafficWave, we can have unlimited lists, unlimited subscribers and send unlimited e-mails, all for one set fee of $17.95 – forever.
It took just over a year to completely transfer ALL of our lists from Aweber to TrafficWave, but we are now saving over $150 a month as a result.  And that savings will continue to grow as our lists grow.  After using TrafficWave for over 16 months, we have been satisfied with the service they provide.
We do agree that Aweber is the best in the industry.  We were satisfied with their service (especially their customer support) and loved most everything about them, except the price.
The REAL Difference Between Aweber and TrafficWave
Aweber vs TrafficWave – they are similar platforms, but there are a few differences.  We have used both platforms extensively and so will share with you the real differences we have found as well as the benefits of each.
First, the Similarities…
Both allow you to send autoresponders and broadcast e-mails.
Both platforms offer HTML and plain text e-mails.
Both offer templates that you can use.
Benefits of Aweber
Aweber has better built-in tracking. TrafficWave tracks open rates automatically, but not click through rates. They do have an option to use trackable links – but there is an extra step you have to take for that.
Another major difference is the support that they offer.  Aweber's support is phenomenal. They have phone support and are willing to help you work through any issues. TrafficWave, on the other hand, only has e-mail support – they do provide a lot of online tutorials as well as forums though.
Finally, with Aweber, we have found that more than one person can be working in the account (i.e. you and your virtual assistant).  However, with TrafficWave, only one person can be in the account at once.  Therefore, if Heather and I are both working on something in TrafficWave, one of us will get bumped out of the account and we have to wait until the other person is finished.  It is a small annoyance, but worth it with the money we save.
Benefits of TrafficWave
We have found that for the most part, TrafficWave's interface is easier for us to use.  Plus, we can still use custom or HTML templates.
And as we already mentioned, Aweber's prices grow as your subscribers grow whereas TrafficWave is one set fee ($17.95)  for unlimited subscribers, lists and e-mails.
Here's a sneak peak inside TrafficWave for you:
[leadplayer_vid id="523A112910A5D"]
TrafficWave FAQ's
Here are some answers to some of the frequently answered questions about TrafficWave:
No matter what company you choose, we highly recommend having an e-mail list.  Here are 5 steps to getting you started…
5 Steps To Starting An E-mail List To Promote Your Books: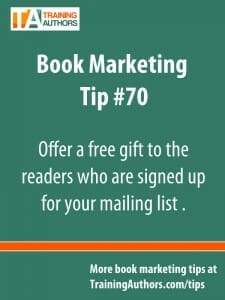 1. Choose something to give away for free. 
Giving your readers an incentive for signing up for your e-mail list is essential in helping it grow. This could be a free PDF of your book (or even just the first chapter), a short story or report, or something entirely different. It's completely up to you, but offering something will help your list grow.
2. Set up an account with an e-mail list provider
You can register for an account with TrafficWave, Aweber or do your own research and see what company will work best for you!
3. Add a welcome message to the list and schedule it to automatically go out to new subscribers – make sure it includes their free gift.
You have to actually deliver what you promise. We upload our free goodies to our Amazon S3 account and include a link to download them in our welcome e-mail. You can also use this message to let them know what to expect while being on your mailing list – how often you will contact them, what you'll be sending, etc.
4. Add a signup form on your website.
Once you have your list set up and ready to go, it's time to start getting followers! While TrafficWave does give you a page on their site where you can send people to sign up for your list, we recommend creating a page on your own website where your following can sign up. On this page you can highlight the free gift they will get when signing up.
You can check out an example here on our site at: https://www.trainingauthors.com/newsletter/
5. Start promoting your list.
Now you're ready to start promoting. You can promote the page you set up on social media by highlighting the free gift.  We are so glad that we started a list years ago as it has been our #1 most effective book marketing tool.  Here are four ideas for how to set up your autoresponder sequence within your list.
E-mail marketing really does work.  Therefore, we encourage you to try TrafficWave's 30-day FREE trial today to get started building your lists.
Our Bonus Gift to You:
If you choose to sign up to TrafficWave via our affiliate link, you will get our 20-page PDF report, "E-mail Marketing for Authors" ($17 value) for FREE.  Simply enter your information in our form here.
Have any questions about e-mail marketing or TrafficWave?  If so, leave us a comment below…