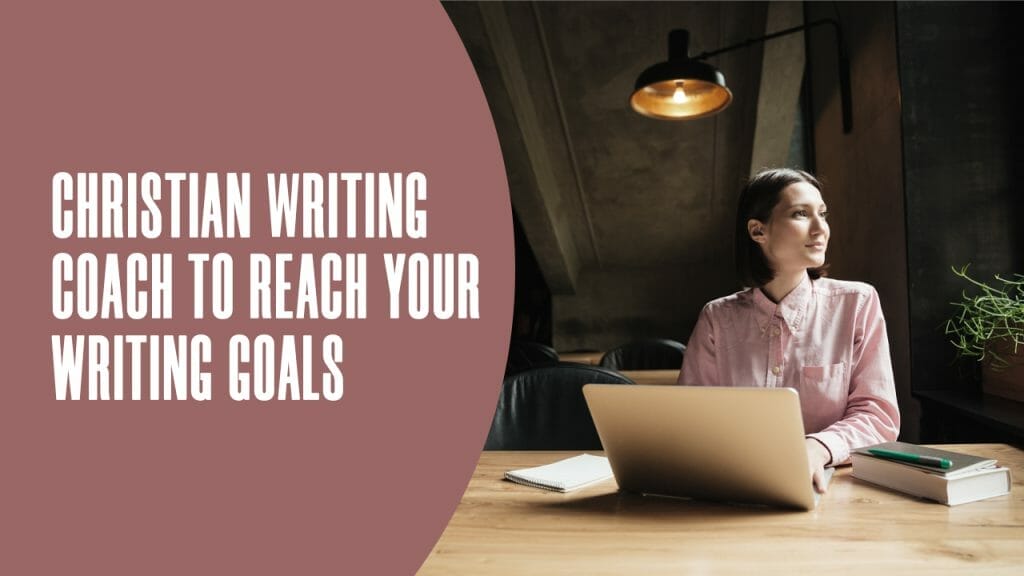 If you're an aspiring Christian writer looking to make an eternal impact with your words, hiring a Christian writing coach might be something to consider. A Christian writing coach could be the missing piece God uses to take your writing to the next level for His glory.
There are seasons when runners hire running coaches in order to reach their potential. Those who desire to learn guitar will hire a guitar instructor in order to get a better grasp of the basics. Watercolor artists just starting out might take an online course from an experienced artist.
Whether you're a newbie just getting your feet wet, or a veteran looking to break out of a writing slump, keep reading if hiring a Christian writing coach sounds like a possibility.
Christian Writing Coach
Why Hire a Christian Writing Coach
Here are a few reasons you may want to hire a Christian writing coach:
It can help keep Christ at the center

– We like to refer to Christian writers as "Kingdom Writers" since we are endeavoring to write words that God uses to help build His Kingdom. Kingdom writers have a call on their lives to lift up the name of Jesus in our writing. In a world full of distractions, a Christian writing coach can serve as a second set of eyes that keeps us accountable to keeping Christ at the center of all that we write.

It's so easy to get caught up in the results and numbers

– Let's face it, we live in a world that is all about results and numbers. "How many books have you sold?" "How many followers do you have on social media?" "How much money did your company make this past year?"

We serve a God who parted the red sea, calmed raging storms, healed the deaf and blind, and raised dead people back to life. In other words, we have a God who is able to change circumstances with a mere word. A Christian writing coach can remind us of those things whenever we start falling into the comparison trap.
Greed and pride

– If we're all honest, we have all fallen victim to these ugly things. Whether it's a greedy desire to want more money to spend on our own pleasure or the pride of craving adoration from others for our accomplishments, the Christian writer has to be on guard. There just might be times in our lives when we need a good old-fashioned kick in the pants from a Christian writing coach in order to keep us humble.

The power of a coach that prays with and for you

– This is the absolute best reason to hire a Christian writing coach. Imagine letting your coach know you've blocked off two hours for writing and would appreciate prayer from him/her. Having a specific prayer team that supports you in prayer is something we encourage any Christian writer to consider. Any of us who have sat down to write words that glorify God know the fierce battle that soon follows. There's a very real spiritual enemy that wants to keep us from following through. Prayer is the weapon that can swiftly move that enemy out of the way.
Inside our membership, Christian Book Academy, we host a monthly War Room prayer meeting where we pray for you.
What to Look for in a Christian Writing Coach
A few things you might want to look for in a Christian writing coach include:

Are they a writer themselves?

This seems like a given but something we should still ask about as we're looking at writing coach options. Are they currently active in their own writing pursuits? What books, magazine articles, blog posts have they written? How have they overcome their own struggles with writing?

What results have they helped others get?

Do they have a list of testimonials from Christian writers they've coached? What are other Christian writers saying about this prospective writing coach? Regarding results, we aren't just referring to book sales but also growth in the writing journey. How has the Christian writing coach helped others make consistent forward momentum?

How long have they been writing and coaching? What is their overall experience level? Are you their first prospective client? Are you their 100th prospective client? Can they relate to being in the writing trenches? By the way, there's nothing wrong with you taking a risk by being their first client. Everyone has to start somewhere. You certainly want your Christian writing coach to have more experience than you. To be a good teacher, one simply needs to be a few steps ahead of the class and have the ability to help the class apply what they're learning.
We have been mentoring writers since 2010, have written and published over 70 books and have sold almost 700,000 books. We are in this with you and would love to be your writing coach inside our membership, Christian Book Academy.
Where to Find a Christian Writing Coach
Internet search

Ask for recommendations from writing groups, conferences, etc.

Pray and fast 
Jendayi Harris found us through prayer and fasting. Listen to her story here:
Work with a Online Christian Writing Coach
We have a couple of ways you can work with us as your writing coach and mentor. 
Christian Book Academy

is our online membership where you can get access to us, CJ and Shelley Hitz, as your Christian writing coach online. We invite you to join our community of Kingdom writers

here

.

Hitz Blitz Private Podcast: Wisdom for Writers is where you can get coaching from Shelley's experience in writing, publishing and marketing books. You can subscribe for free here.
Recommended Reading