One key factor to our success as authors is what we have learned from others along the way. So today, we want to share 12 of our favorite blogs for authors. We encourage you to check them out as well as share which blogs are your favorite blogs are in the comments.
#1. The Future Of Ink
Shelley is a contributor of this site that revolves around digital publishing. The quality of posts this site offers can't be beat. It was founded by Denise Wakeman and Ellen Britt with the hopes of becoming THE authority site for entrepreneurs looking for info on digital publishing. They have experts from all over who contribute posts regularly to their site: http://thefutureofink.com/
(Click here to see Shelley's posts)
#2. Books and Such:
Books & Such is an agency that helps authors build careers. The blog on their website is written by literary agents and is full of great content for aspiring and seasoned authors alike. You can check it out at: http://www.booksandsuch.com/blog/
I was turned onto this website after following one of their agents (Rachelle Gardner pictured below) online for years. You can check out her blog for some awesome posts as well, however it does appear that all of her new stuff is coming out on Books & Such).
#3. Jeff Goins
Jeff started his blog in 2010 in search of answers, found a community of like-minded people, and became a huge success. He shares insights about writing, publishing, marketing and anything else he thinks of on his blog. Check out the most recent posts at: http://goinswriter.com/
#4. Write to Done:
Write to done is about learning to write better. They cover everything from copywriting to creative writing and everything both in between and beyond. If you're a writer, chances are this blog has something for you: http://writetodone.com/
#5. The Book Designer
Joel Friedlander blogs about the publishing side of being a writer. He says that, "Writers change the world one reader at a time.
But you can't change the world with a book that's still on your hard drive or in a box under your bed." He also puts together a blog carnival with blogs from around the web that relate to self-publishing, book marketing, writing, and more. It's a great way to skim posts and find the ones you want to read. You can visit his site at: http://www.thebookdesigner.com/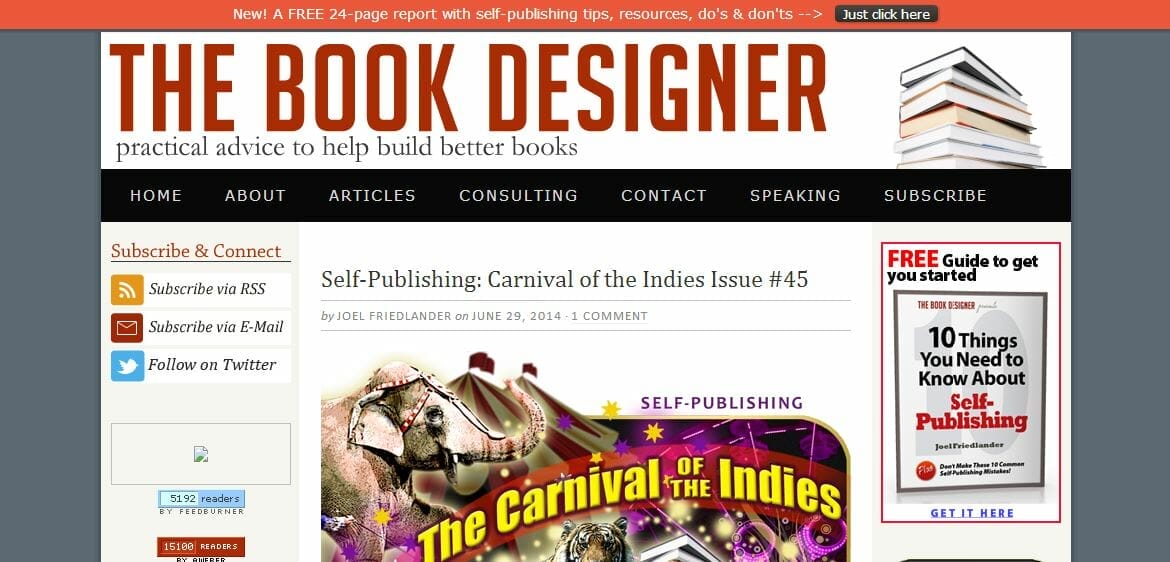 #6. Marketing Tips
Paula Krapf has an outstanding blog where she shares book marketing and publishing tips: http://marketingtipsforauthors.com/blog
#7. Jody Hedlund
Jody shares what she is learning in her own journey of publishing and marketing on her blog. I have been following her for years and she shares amazing insights worth reading. Jody is a romance writer, but most of her posts are good for any genre. Topics you'll find on her blog include: writing and marketing tips, publishing news, and everything in between. She has been a huge inspiration in my own book marketing. You can check out her most recent posts at: http://jodyhedlund.blogspot.com/
#8. Denise Wakeman
Denise is the founder of Future of Ink (#1 on our list) but she has an amazing blog herself that I highly recommend checking out at: http://denisewakeman.com/
#9. Jane Friedman
The subtitle of Jane's blog is "Writing, reading, and publishing in the digital age," and she covers exactly that. You can check it out here: http://janefriedman.com/blog/
#10. Author Marketing Experts, Inc.
Penny Sansevieri shares some awesome info on her blog: http://www.amarketingexpert.com/blog/
#11. Author Media
This blog focuses mainly on growing your online platform, but it is definitely worth following: http://www.authormedia.com/blog/
#12. Helping Writers Become Authors
If you write fiction, you won't find a better blog than K.M. Weiland's "Helping Writers Become Authors." She shares quality posts that teach authors how to write great novels. I also encourage you to download her free eBook on character development – it's amazing. The only reason I've listed this site last is because it's really only helpful to fiction authors. If you are a non-fiction author, you'll probably want to pass this one by.
http://www.helpingwritersbecomeauthors.com/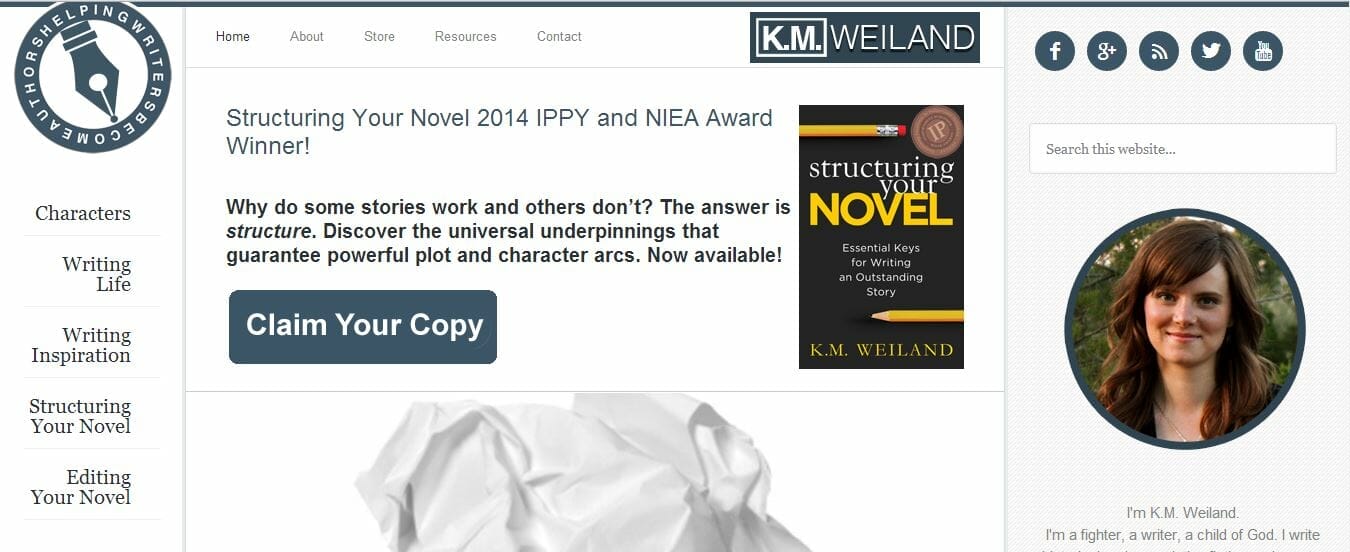 What's your favorite blog for authors?
Share it in the comments below!