Are you having difficulty changing the price of your Kindle book on Amazon?
This tutorial will walk you through the simple and easy steps on how to change the price of your kindle book in KDP.
 Watch the Video Below:
Click here to get notifications for my Facebook Live training.
The Step-by-Step Process
Today, I want to share with you how to change the price of your kindle book in KDP.
Here are the easy and simple steps on how to do it.
Step 1: Log in to your Amazon author account.
You can click on this link and you will be directed to sign in on your account: https://kdp.amazon.com/.
Step 2: Choose the book that you want to lower the price of.
So you simply have to scroll down the page and click on the title of that book that you want to change the price of.
Step 3: Changing the Price
When you click on the title, it will bring you to the next page, which says "Rights and Pricing". You then just have to scroll down to where the pricing is.
It will then show you the price and the royalty that is set for the book.
When you change the price to $0.99, you have to change the royalty to 35%. As to why that is, it is just how it works with Amazon KDP.
My account is set to automatically price it elsewhere. However, I need to change the price for Canada so that way, it's a similar price for them.
Step 4: Finalizing
Once you finish the above-mentioned step, you just have to click on the Agreement that says, "By clicking Save and Publish I confirm I have all rights necessary…"
Then you just click on the Save and Publish block. It will usually take around 12 hours, from the time that you submit the price, to be updated on the website.
More Tips on Special Promotions for Your Book
I always recommend that if you're doing a special promotion, say a $0.99 promotion, to lower the price in advance, at least 24 hours, so that your book is priced at accurately, when you are promoting it.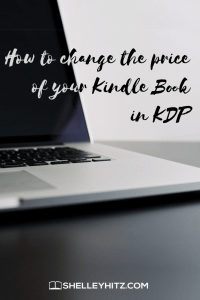 If you want to know more about promotions like the one that I shared above, we have a blog post at TrainingAuthors.com that includes different sites and tools you can use for a $0.99 promotion here.
I have just recently updated this list so it will give you a ton of ways that you can boost your promotion.
I always recommend this for any Author Audience Academy members who are doing a $0.99 promotion with our book launch team. I also share some tools you can use, and give you a ton of places where you can promote both for free, or you can pay.
For paid advertising you really have to consider what's going to be the biggest bang for your buck.
There are several resources there for you and not all of it are going to work for you. So you have to see which one may give you what you wanted to achieve.
I hope you enjoyed this step by step tutorial on how to change the price of your book.
If you have any questions just let me know in the comments below.
If you would like to ask me a question and possibly get featured then just submit your question at ShelleyHitz.com/Ask. That's how you can ask your question, and I might just create a video for you.
Have Comments or Questions?
Share them in the comments below.