Today's topic: Repurpose Your Content
Prefer audio? Listen below.
Subscribe to the podcast here.
Notes from this episode:
If you have published blog posts, podcasts, videos, or have given presentations; you may already have content you can use for your book.  
Take a moment to look over the content you have already created to see if you can repurpose it and include it in your book.  
For example:
Podcasts and videos can be transcribed.

Presentation slides can be used as part of your outline. 

Deleted scenes can be fleshed out and used as a free gift for newsletter subscribers.

Journal content can be used when sharing your own story or journey.

Even social media posts and emails can be repurposed into content for your books.
Here are a few of my personal examples: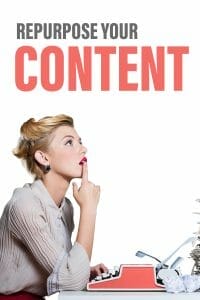 My very first book, "Mirror Mirror…Am I Beautiful," was created from articles on my website. 

The outline for our book, "Forgiveness Formula," came from our presentations on the topics that were well received. I also used some of my journal content in this book.

"Procrastination to Publication," was transcribed from one-hour audio and then edited into a book.

"Prolific Publisher," was transcribed from a webinar presentation and then edited into a book.

"Self-Publishing Books 101," was created from blog posts and expanded into a resource many writers have used to self publish their books.
The options are limitless! Don't forget to consider the content you already have as you write.
Book Writing Lab
Get your book out of your head and onto paper using our 3 proven book writing formulas
…and then create a writing plan to finish your first draft.
We just launched our brand new workshop, Book Writing Lab, and you can get in today for just $27. WooHoo!
Get started here: https://bookwritinglab.com/
Watch the Video Below:

We hope this episode encourages and inspires you in your writing.
Share Your Breakthroughs
Share what impacted you from this post and any breakthroughs God gave you as a result in the comments below.