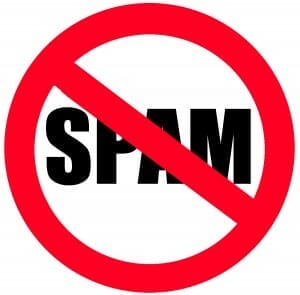 After spamming 102 out of 104 comments on my author website one morning last week, I thought it was time to write up a post on minimizing spam on your website to share with you. I know I am not the only author plagued with spam. Spam seems like a common problem to all new websites. In fact, we went through the spam battle back when we started this site last summer, so how did we stop it?
We changed two small things.
#1 – We activated Akismet.
Akismet comes preinstalled with most WordPress themes, so all you should need to do is activate it… which does require an activation key.
As long as you have a non-commercial blog, you can get one for free—and most author blogs would qualify as a personal blog as long as it is owned by you (not your business or publisher) and you do not use it to sell products. Basically, if you link to your book on Amazon, you are a personal blog, if you sell your book from your website with your own shopping cart system, you are a commercial blog.
Note: They do have the option for you go give a donation, but if you set the amount to $0.00, you don't even have to enter any payment information.
If you do have a commercial website, you will need to pay to use this. Again, if you sell your book or a product directly from your website, or if your primary goal of your website is to bring in revenue (via advertising, book sales, speaking engagements, etc.).
You can find out more about Akismet at: http://akismet.com/
#2 – We upgraded to Comment Luv Pro.
The pro version of this plugin that we love offers spam protection among several other cool features. (Find out more at: https://www.trainingauthors.com/commentluv) The spam protection is Growmap's Anti Spambot Plugin (also known as G.A.S.P.). This plugin will ask commenters to check a box to verify that they aren't a spammer the first time they comment on your blog. It's a lot easier than a captcha, but still effective.
You can also get Growmap's GASP plugin free by searching for Growmap within the WordPress plugin console or by visiting: http://growmap.com/growmap-anti-spambot-plugin/
The Results
I have to tell you, in the time it took me to install or activate these two plugins on my author website (think minutes) I already had new spam comments on my blog. Less than 48 hours later, I already had 48 comments in my spam folder, and no spam that slipped through to my moderation queue. All I had to do was click the "Empty Spam" folder and I was done with them. A week later, I have yet to see a spam comment slip through, and the number I have to delete from my spam folder is slowing down.
What about you? Are you winning the spam battle on your website?