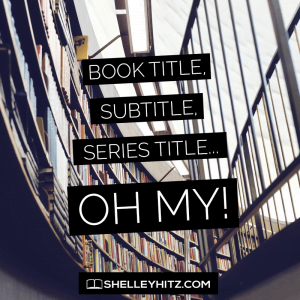 Do you ever feel confused on how to title your book?
In today's training, I want to talk about defining Book Title, Sub-title, and Series title in choosing titles for your book.

Listen Below:

Subscribe to the Podcast:  iTunes |  Stitcher |  RSS
Click here to leave an iTunes review and subscribe to the show.  Read my step-by-step tutorial and find out all the details here. If you have a specific question, I'd love to hear from you! Leave me a message here.
The Value of Choosing the Right Titles
Right now, my members of Author Audience Academy are going through a 90 day publish accountability group. That means we're doing all the steps in my 90-day publishing map to get a book published before Christmas.
We are now at that stage where a lot of people are choosing titles, finishing their first drafts and getting into self-editing. And I've noticed some confusion when it comes to book titles, sub-title, and series title.
So I want to talk about that in today's training.
Now these are all valuable real estate you get when you publish a book. One of the reasons for this is because your book title will draw in readers. Therefore, it needs to be catchy.
It is also a way to get exposure and visibility on Amazon when you choose certain keywords in your titles. Your main book title, sub-title, and a series title, if it's a series, are all powerful and effective tools that can help with book sales and exposure.
Creating Your Titles
I want to dive into this deeper. So let me give you an example by breaking down how I did it for my book, "The Gratitude Journal". It's a book that has sold really well on Amazon and it is still available now.
So the main title of the book is "The Gratitude Journal". As I've shared in some of my previous training, I had to change the title of this book. It used to be "21 Days of Gratitude Challenge".
But as I did my research, I found out that the phrase "gratitude journal" is searched a lot on Google. It's also a very commonly searched keyword in Amazon. So I put it as the main title instead.
As you see, one of the things you can do in deciding the main title of your book is doing keyword research in Google, Amazon and possibly, other search engines and libraries as well.
So the book title is "The Gratitude Journal". Then I put "A 21 Day Challenge to More Gratitude, Deeper Relationships, and Greater Joy", as the Subtitle.
So what I did here is I talked about the benefits. On the sub-title, it shows people what they are to expect from the book. You present the solution.
Now this book is part of a series and there are three different books in that series. And then, there's the compilation book, "The Life of Gratitude", so there are four.
So for the series title, I chose the title "The Life of Gratitude".
Another example that I can give you is a series that I have written and co-authored with Heather Hart. We are getting ready to publish a couple of new books for this series. So excited!
The main title of the book is "How to Get Honest Reviews". This is a book for authors on how to get honest reviews. For the sub-title, we chose "7 Proven Ways to Connect with Readers and Reviewers".
We have observed that numbers tend to do well in titles, so we put numbers there. In this sub-title, we put the number seven.
And since this book is from a series, the series title is "Book Marketing Survival Guide Series". From this, you can get the idea that the book series is more about book marketing for authors.
Doing Your Research
Aside from the examples I gave you, there are other ways to learn. I encourage you to do research on Amazon. Do your market research.
In one of the training in Author Audience Academy, I shared with you the importance of market research in your niche. Through this, you will learn what the typical titles other books have.
You will also find out the most searched titles or keywords which will help you in deciding for your book titles.
No Perfect Title
You have to know that there is no formula for a perfect title. You need to make a decision because successful people makes decisions.
This is one of the bigger decisions that you have to make so you have to think about it deeply. Don't rush it. Do some brainstorming, research, survey and ask some people.
If you're an Author Audience Academy member, post in our Facebook group. We will help work you through that process through our feedback and help you make that decision.
Then again, keyword research is very important in creating your title so do your research. You can also include the benefits or solution you are offering in your title.
And you can have fun and creative titles that will draw people in. I did that on my book "Procrastination to Publication".
So you can do so many different things with your title. You decide.
I just wanted to clear up the confusion about this subject. I hope you found this helpful.
So do you have any questions about book titles, subtitles, and series titles? Did this seem to clear it up for you? Was this helpful?
I love to hear from you. It really helps me to know that you're getting value from these free trainings. So I will appreciate if you leave a comment below. Your comment will encourage me to do more of these training for you.
Until next time!
Watch the Video Below:
Click here to get notifications for my Facebook Live training.
Have Comments or Questions?
Share them in the comments below.