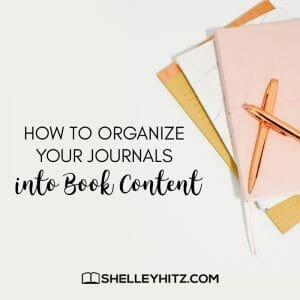 Are you stuck in getting all the content organized from your journals? Sometimes we can get overwhelmed by the amount of content that we have in our journals that we get paralyzed and stuck.

In today's training, I am sharing with you tips on how to get your journal contents organized in three easy ways.
Listen Below:

Subscribe to the Podcast:  iTunes |  Stitcher |  RSS
Click here to leave an iTunes review and subscribe to the show.  Read my step-by-step tutorial and find out all the details here. If you have a specific question, I'd love to hear from you! Leave me a message here.
The Three-Step Process in Organizing Your Journals
Do you have a bunch of journals that you've kept over the years? That would make great content for your books. That is if you will learn how to get started in organizing all of it. I wanted to share with you a few tips for organizing your journals into book content.
It was in October 2018 that I taught two different workshops at Gathering of Artisans. One of them is a full day workshop on self-publishing. It is something that I've taught for years. I'm an expert in that area. Then, one of my friends caught me at dinner that night. She was like, "Shelley, I want you to come over and talk with someone. I think you could really give her insights into her books."
I'm willing to go above and beyond when at conferences and speaking somewhere. I do a little or mini coaching sessions for people. And that is how this meeting ended up. I was able to talk to this person. She is in the process of writing a series of books. She has a lot of content in her journals that she could use. But was just stuck.
You could see the feeling of overwhelm on her face. The paralysis of analysis. The look of being paralyzed on what needs to be done in organizing her journals. Yet, she knew she was to write these books and had great content to share. She believed God had put that on her heart.
So we started talking.
Immediately, I could tell where she was stuck in getting contents organized. That can be a place where a lot of us get caught up. Whether it is on research that you are organizing, journals or something else. I gave her a simple three-step process.
As we talk, I saw her face literally go from overwhelmed to being lit up with a hope that she could do this. It was so amazing. She was like, "thank you so much!" I haven't heard back from her. But I pray she would put it into action. And be able to move forward in what God had called her to do.
Step 1: Batching

The first step is simply scheduling a block of time to do this organization. Part of the process I recommend is called "batching".
Batching your time is basically doing things in chunks. You are not doing a little bit of organization, vetting, writing everywhere. Instead, doing it in chunks of time. This way you get in the flow, process, and can get a lot done.
I recommend setting aside a significant chunk of time. It could be an afternoon one day or a Saturday. A weekend, where you can go and get away with your journals to get this project done.
I guarantee once you do this, you get these journals and content organized. Things are going to go much quicker, smoother, and faster. The first step is to block off a chunk of time to do it.
Step 2: Divide by theme, seasons or topics
Secondly, think about how you want to divide your journals. You have written these and know what kind of content is in the journals. Divide them.
For instance, you can separate into seasons. A time in your college days then, during single years or when you got married and have children.
It could be a different season that was work-related. Or some tragedies that happened in your life. You could break it down into seasons and times in your life and simplify into topics.
Let's say the topic you want to write on is gratitude, faith or something else. You go through your journals. Skim the pages. Start identifying the different places you've talked about that particular topic.
This can be powerful. You can literally have different books from your journal content.
I have a lot of content in my book Forgiveness Formula that came from my journals. The same thing with my book The Gratitude Journal. It started as my diary. I had no intention of publishing. But it ended up becoming one of my best-selling books.
Breaking down into topics can be powerful. You can divide it into different kind of books you are going to write.
Maybe you are going to write about devotionals. You have different themes for each devotional books. You can go through and find content that would match that theme. There are many different ways to organize and categorize. You need to figure out the kind of system for the contents that you have.
Step 3: Color-Coordinated Notes
The third step is then to take some sort of sticky note or little tabs that are colored. Get different colors and be able to write something on it. Colors are great. You can see it at a glance and sticking out of the side.
So you can put it like everything pink is related to gratitude. All purple tabs are related to faith and so on. Then you can start flipping through your journals.
I recommend staying on task. Do not get caught up in reading again everything. That could take forever. But try to skim the pages.
When I go back through and skim my journals, it comes back. I'm like, "oh yeah, now I remember what I was writing at that time." Then I can put the colored tabs. In that way, you are starting to color coordinate the different seasons. The topics or books from the journals that you have.
For one of the books that I wrote. A resource for Christian women that struggle with pornography. I went back through my journals to get the timelines. The details of when did I go to counseling and how long it even last. It has been so long that I couldn't remember anymore.
But when I went back, I could get some of the information and details. I flagged different journals with unlike things. In that way, I could have the information I need. I could share accurately my own testimony and what God did in my life.
Organizing your Journal is as Simple as 1, 2, 3 Steps
There are many different ways to do this. But the three-step process is as simple as scheduling off a block of time. Then, make it as big of a chunk of time as you can. Gather all of your journals and decide what kind of different organization process you're going to use.
Are you going to break it up into topics, seasons, books or something like that?
Once you have that system down. What you will do is skim back through your journals with color coordinated post-it notes or tabs. You will have a different color for each topic, season, or book.
Then, you will flag that in your journal. Do it quickly. You are skimming and this is quick. You're not going back and re-reading everything word-for-word.
Flip the pages and skim. "OK, I can use that for this."
There are some contents you won't ever use. Some of our journals are meant just for us. It could be between us and God, just to process things.
As you're skimming and flipping, you will put those color-coordinated post-it notes or tabs. In that way, you'll have a system that you can use going forward as you write your books.
EndNote
This is just one way to do it. I would love to hear your tips and the things that have worked for you. Please share it in the comments, if you're here on the blog, YouTube, or Facebook.
If you're on the podcasts come over and join us on Facebook at http://www.Facebook.com/AuthorAudience or on my YouTube channel AuthorAudience.
Leave a comment and let me know, what has worked for you. Because that is how we help one another. Sharing what has worked well for us.
I hope you found this training helpful. If you have please share it with a friend. I encourage you to get your journals out and unstuck. You move forward, get it organized and start writing that book.
If you're ready to write the book, I have free training for you. It's a seven-day writing challenge called Writing Week. You can find it at http://www.WritingWeek.com. This challenge will help you get started, get the content and writing out. It will help you to find what works best for you in your writing.
Watch the Video Below:
Click here to get notifications for my Facebook Live training.
Have Comments or Questions?
Share them in the comments below.