When you are starting a new publishing project, how do you set your goals?
Here are a few tips to help you set a realistic publishing goal when writing a book.

Listen Below:

Subscribe to the Podcast:  iTunes |  Stitcher |  RSS
Click here to leave an iTunes review and subscribe to the show.  Read my step-by-step tutorial and find out all the details here. If you have a specific question, I'd love to hear from you! Leave me a message here.
Runners and Writers
It is so fun! We recently started a 90-day publish accountability group inside Author Audience Academy. I recorded a kick off video and thought it would be a great idea to share with you tips and things to consider when you're starting a publishing project.
I'm a runner and my husband is a runner and a running coach. I have trained for half marathons and my husband has run marathons before, even ultra-marathons. So I am going to use the illustration of training for a race.
There are times when runners are similar to writers. You get really excited and set a big goal. For a runner you may think, "I'm going to run a marathon this year! I'm going to get in shape, I'm going to finally do this!"
So you start training for a marathon and of course, training for a marathon is intense. You can get overwhelmed, it may seem too much, you get disillusioned or hurt and you quit.
This is what happens when you start too big. Whereas, if start with a 5k, which is a 3.1 miles run, that is a very doable and realistic goal. You can then run a 5K, accomplish it, get momentum, finish it, finish a goal, and then move forward.
This is similar to writing your book and creating a publishing goal. When you're setting your goals, do you ask yourself "is this publishing goal realistic?"
There are three things I want you to take into consideration so that you're not biting off more than you can chew and then you get disillusioned, disappointed, and say, "this just doesn't work," or you beat yourself up. We tend to be our biggest critics and so we ask ourselves, "Why can't you finish this book?!"
So before setting your publishing goal, take into consideration the following.
#1: Time
How much time do you have to put into this project?
Many people are writing books with full time jobs, taking care of their families, or have volunteer responsibilities in the community, and so it's just not realistic to finish a full length book in 90 days.
I believe anyone can finish a short Kindle eBook in 90 days, I do. I think no matter what your situation is right now, what your circumstances are, you can rearrange things, and you can set your schedule to fit in a short Kindle eBook.
If you want to do a full length book, print, Kindle, audio book and all these different formats but you don't have very much time to devote to it, it may just be too much right now. For now you may decide "I'm going to publish this in Kindle. I'm going to still prepare everything as if I may publish it in print later, but I'm going to publish this in Kindle first, and get it done."
Learn the publishing process and get it out there; don't put it off. Still get it done but consider the time that you have available to do it.
#2: Budget
How much money do you have to put into this publishing project right now?
Let me tell you that the most inexpensive, easiest, fastest option to get published is Kindle. It's going to be cheaper on every front to do a short Kindle book.
Publishing in Kindle is cheaper because
It's shorter so it's going to take less editing
The book cover is less expensive
You don't need an ISBN, you don't have to purchase that for a Kindle book
And there are so many things that you don't have to do compared to publishing print books.
So you really need to look into it.  Ask yourself.
"What is my budget?"
"What do I have to invest into this book right now?"
"Is it realistic for me to do all the formats, or should I start with Kindle and as I sell books I can reinvest my profits into publishing the print version."
The way I teach it inside Author Audience Academy you don't have to spend thousands of dollars; usually it is hundreds, or even less. For a Kindle eBook it can be less than a hundred dollars, it just depends on who you get for editing. The editing is probably the biggest expense. So think about your budget, and what do you have to spend?
#3: Resources
Do you have the resources you need to finish this project?
Do you have the training, coaching, instructions and materials that you need to complete the book? I provide all of the training needed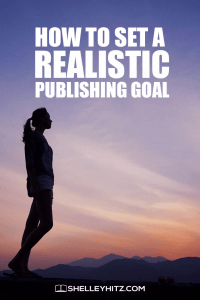 inside Author Audience Academy for all my members.
They have all the templates, downloads, and trainings, and they also get coaching with me every day, any time they're stuck. They can post a question in our Facebook group and I'll answer it.
If you're going at this alone, and believe me I did so in the beginning, it may take longer. But when you're able to invest in resources like coaching – group coaching or one on one coaching – or even invest in books or programs, you'll be able to shorten the time.
You will be able to get it done quicker because all your questions will be answered for you. Otherwise, if you have to research and figure out the answers yourself you may need to extend your deadline.
So, do you need these resources or do you have them?
Additional Takeaway: Research and Expectations
Week one in the publish module inside Author Audience Academy is all about making these decisions, researching your target market, and researching if this is a profitable book idea.
One of the things that I see authors doing, is not doing that research up front and so they get disillusioned, disappointed, discouraged, frustrated, and upset on the back end because their book isn't selling. If they would have just done a little bit of research on the front end it would have saved them so much stress.
As writers we are creatives. I actually am embracing the fact that I'm a creative although I never thought so before because math and science were my best subjects in school and I was a physical therapist in the medical field for twelve years. But I'm a creative because I love to create.
We love to create, and so we want to dive right into the creating part – getting the book cover, designing that, writing our book and figuring out our email. That's fun, because we're creatives!
But what happens is when we skip that we can get frustrated or disappointed. I mean, I cannot tell you how many people contact me and tell me that they are frustrated or disappointed in their book sales, and I could have told them that their book topic was not going to sell very well, there is not a hungry market for it, it's not solving a pain point, or it's not really a book that's in demand.
Now, I have passion projects that don't sell well, but that's my passion project. I have business builder books which I know is not going to sell that well, but it's going to help me get new leads and help me get new people into my business.
So there are different purposes for your books and from the beginning you should really make it clear. If you go into it knowing, "OK, I'm not going to be making a full time income off of this one book", then you will not get disappointed if your book does not sell much.
That's the other thing.  A lot of authors get this unrealistic expectation that they can make a full time income off of one book, and it's just not true. You have to have systems in place, and sometimes it can happen; I'm not going to say it can't happen. There are the outliers and there are the people that make a full time income off of one book, but very rarely does that happen.
So doing your research beforehand, can really make you happier in the end.
Conclusion
I want you to think about these things first before you dive in, because I don't want you to give up.
I don't want you to say,
"Oh forget this book."
"Oh, it's too hard."
"It's too expensive." Or,
"It's too this or too that."
I want you to be a finisher, to cross that finish line, and the very best way you can do that is by setting a realistic publishing goal.
I would be more than happy to work with you. I have tons of free resources you can get a hold of at ShelleyHitz.com/Free, and I am so excited to work with all my Author Audience Academy members over the next 90 days to help you cross that finish line. Let's do it!
Watch the Video Below:
Click here to get notifications for my Facebook Live training.
Have Comments or Questions?
Share them in the comments below.