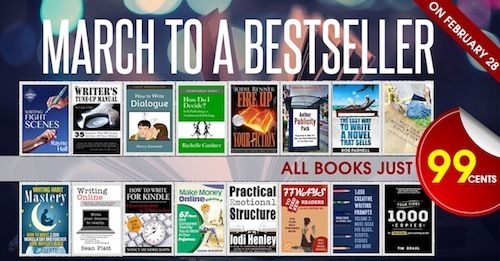 I've spent all day on Facebook today. And it wasn't a waste of time.
Shelley and I were invited to join Bryan Cohen's "March to a Bestseller" event on Facebook a while back. The live event is today and we've been having some amazing conversations. 16 authors got together (at Bryan's request) and each of us offered one of our eBooks for authors for just 99 cents during the sale. Then, we all marketed it and logged onto Facebook to connect with other authors and help them find the answers to their questions about writing, publishing, and marketing.
It's been a blast!
I've made some new friends, gotten to talk about my all time favorite subject (being an author), and been able to help a ton of people. But I've also learned a few things along the way. So in this post, I want to share 4 tips to using Facebook events to its full potential.
Are you ready?
4 Tips For Using Facebook Events to Their Full Potential:
#1. Use a Professional Profile Picture
Facebook events (and even Facebook groups) can only be attended by actual profiles, not pages. So even if you generally keep the two separate, if you are going to take part in a live event on Facebook, consider switching to your author photo vs. the one of your kids or your cat. This helps people to recognize you. You can change your profile picture as often as you want, so even if you just switch it over for the event, you can always change it back later on.
#2. Update Your About Section and Profile Visibility
Michelle Campbell-Scott, author of Goodreads for Authors recommended making sure that the links to your books, or at least their titles, are mentioned in the about section on your Facebook profile.  If an a reader likes what you are contributing during the event, they are likely to click on your profile to see what you've written. If you don't have any reference to your books there, they will have to dig. At the same point in time, having your books there but having your privacy settings set so that no one can see them unless your friends won't help either.  You'll want to make sure that your "About Me" section is public, along with your screen names and website links.
Michelle also recommended including the link to your Amazon author page under your website links. She gave a ton of great advice during our event today, you can check out her website, MichelleBooth.net, for even more great tips from her.
#3. Be Social
The more social you are during events on Facebook, the more people you'll get to know, the more connections you'll make, the more people you'll impact. There were over 600 people at our event today. Only around 30 or so made themselves known. Some only asked one question, while others asked a ton of questions or contributed to dozens of different conversations. The more active the participants were, the more help they got (or gave) and the more likely I am to remember them in the future.
Also, the event today was for authors, but one of the best posts was when Nancy Hendrickson shared about her writing companion, Josie the cat. Don't be afraid to come out of your shell and get to know people.
#4. Don't Take it Personal
During today's event, I got multiple friend requests from authors that I helped or met during the event. But as I mentioned in #1, a lot of authors keep their profile just for personal friends and family. If you send someone a request and they don't accept, it doesn't mean that they didn't like you, it's more likely that they just keep the two separate. You might seek them out and connect with them on their Facebook page, twitter account, etc.
If you're one of the authors who, like me, is very choosy about who you accept as a friend, this is where having the website and social media links on your profile set to public will come in handy. I don't always take the time to respond to every friend request, but you might send a message saying that you keep your profile for personal friends, and would prefer to connect on your page or website and send a link.
UPDATE:
Join us for March to A Bestseller 2, on November 7th, 2014 here: https://www.facebook.com/events/1642751759284824/
A lot of authors worry about spamming their friends and family with a ton of marketing posts about their books, but the 4 simple tips listed above leave your regular following spam free while helping you network your way to success.
What tips do you have for getting the most out of Facebook events?
Share your tips in the comments below!