We have all felt the friction when we sit down to write.
You may also feel it when you sit down to complete the steps of publishing a book or work on marketing your published book.
The Friction is Real
The friction, or what we often call resistance, is real. I believe almost every writer feels it. And some of us more often than others.
It's part of the creative process.
However, there are things we can do to set ourselves up for success.
I have so much I can say on this topic but for today I want to focus on one thing.
Make It Easy
One way you can reduce the friction you feel when you sit down to write or to work is to have everything set up and ready.
If you can, create a dedicated writing or working space that has your computer or preferred writing tools set up and ready to go.
And I always recommend knowing what you'll be writing about that day. Even if you simply know the topic or the scene that comes next, it gives you a place to start without having to make those decisions.
If you are a panster (fly by the seat of your pants as you write) having some kind of plan for what to write next or what to work on next can still help.
Personally, I prefer working with an outline when I'm writing.
For example, for my mentoring moment trainings I have a folder where I keep my ideas and a basic outline. I never start from scratch when I sit down to write and it helps me so much.
The less preparation you have to do, the better.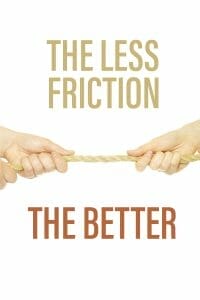 The more decisions you have to make in the moment, the more likely you won't do it.
That's why they say when you are trying to create a habit of working out in the morning to set out your clothes and your shoes the night before.
It decreases the friction.
I have also found this to be true for creating art. Once I created a dedicated space AND had all my tools set out within reach, I started creating art much more regularly.
I reduced the friction even more by cutting down my watercolor paper in the sizes I need ahead of time.
What Can You Do?
What is one thing you can do today to decrease the friction before you write or work next?
Don't underestimate the tiny changes.
It amazes me how powerful a small change can be.
And realize that we are all different. Find what works for you. If you try something and it's not working, don't force it.
You be you!
Action Steps:
Think back over the last week. Did you feel any friction or resistance for your writing or your work? If so, was it for a specific book or project?
Do you have a dedicated space for writing and/or working? If not, brainstorm ways to create one. When I first started creating art, I used a small folding table and a folding chair in our dining room. It wasn't perfect, but it worked! And it helped me develop the skills I have today as an artist.
In what ways can you prepare for your next writing or work session? Do you have an outline so you know what to work on next? Do you have a plan for your project so you know what step comes next? If not, take 5 minutes and decide what you will write or work on next. It doesn't have to be an elaborate outline. It can simply be one word on a 3×5 inch card. Try to do this before each writing or work session if you can.
At this point in my career, I do some of these things without thinking about them. I make lists. I create outlines. I have a plan for what steps need to take place for each project.
But, this didn't come naturally to me.
It's a learned skill.
And you can learn it too.
I'm cheering you on!
Share any of your takeaways from this topic in the comments below.