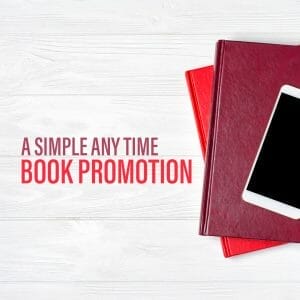 Sometimes we can overcomplicate things as authors. Right?
Yes, you can plan for months for your book launch with a book launch team and podcast interview tour.
But, you don't always need to go big.
Sometimes I like to keep things simple and easy with a 99 cent promotion for your Kindle eBook.
Plan a 99 Cent Promotion Any Time
The great thing is that you can plan a 99 cent promotion for your book at any time to boost sales.
It doesn't have to be your book launch. It doesn't have to be a holiday.
You decide when you want to do it and then lower the price of your Kindle eBook for a few days.
I have a group coaching program called, Book Marketing Momentum, and recently several of my members said they thought you had to be enrolled in KDP Select in order to host a 99 cent promotion.
But, you don't.
KDP Select is a special program that allows you to run a countdown deal or free promotion for 5 days every 90 days. However, you have to have your eBook sold exclusively with Amazon to use this feature.
If you are enrolled in KDP Select, use the countdown deal option.
But, if you're not enrolled in KDP Select, you can still lower your eBook to 99 cents for a 2-3 day promotion at any time.
It's So Simple
This is the easiest promotion you can do. All you have to do is lower your price for a few days and let people know about it.
You don't have to create a special bonus.
You don't have to coordinate a book launch team.
You don't have to host a giveaway or contest.
However, it will be easiest when you have independently published your book and have access to your KDP account. If you have a publisher, you will have to coordinate the price drop with them.
KDROI Software
KDROI
A tool to consider using during your $0.99 promotion is called KDROI. They will automatically submit your book to multiple sites for consideration to be featured during your promotion.
There is not a guarantee that you will be featured, but this tool gives you an easy way to submit your book to multiple sites at once.
Download this tool here: https://www.trainingauthors.com/KDROI (aff link)
You can also see a review of this tool I did here: https://www.trainingauthors.com/kdroi-review-kdp-promotion
In the review, I demonstrate how to use it for free promotion, but it works the same way for a $0.99 promotion. You'll just choose the option for $0.99 instead of free when setting it up.
Action Steps:
Decide on a date for your promotion. I like to run my 99 cent promotions for 3-5 days, usually Tuesday through Saturday. See what days work best for your audience.
Submit your book to sites that promote bargain books at 99 cents. Use the KDROI software to speed up the process. https://www.trainingauthors.com/KDROI (aff link)
Schedule social media posts, blog posts, and emails to your list about your promotion.
Optional: use other paid ads spread out over the 3-5 days to help boost your sales even more. If you want specific recommendations for which paid sites to use check out the training I created for the Book Launch Challenge inside Christian Book Academy here: http://christianbookacademy.com/
Have you hosted a 99 cent promotion for a Kindle eBook before? Will you plan to do another one in the future? Comment below and let me know.
Also, be looking for new training on our podcast next week all about "How to Launch a Bestselling Book Without Losing Your Mind" with Lindsey Hartz. If you are a Christian Book Academy member, join us live for this training tomorrow and be prepared with any questions you have.